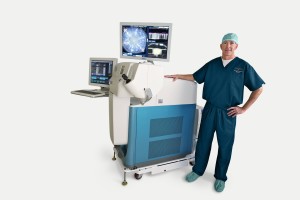 There are no eyes like yours. And there is no cataract procedure like customized laser cataract surgery for your eyes. Eye Care & Surgical Center of Laurel  is pleased to offer ReLACSTM (Refractive Laser Assisted Cataract Surgery), a bladeless, computer-controlled laser platform combined with the most technologically advanced diagnostics. This platform allows our surgeon to plan and perform your cataract surgery to exacting, individualized specifications unattainable with other surgical methods.
By adding computer control to key steps of cataract surgery, cataract treatments utilizing ReLACS ensure the highest surgical precision available today. When combined with advanced implant options for cataract surgery, ReLACS procedures may offer freedom from glasses, contact lenses, or even reading glasses after surgery.
Traditional cataract surgery has always involved the use of a physical blade to create several small incisions during the procedure. With ReLACSTM, these incisions are now made with a laser. This technology allows our surgeons to plan and perform cataract surgeries with laser precision. With this advanced technology, surgeons experience more control and flexibility; plus, ReLACSTM features real-time tools for an accurate display of what's going on inside the eye during the procedure.
When used in conjunction, ReLACSTM and one of the intraocular lenses offered at Eye Care & Surgical Center of Laurel may give patients even more visual freedom after cataract surgery, helping maintain clear vision for decades.
Understanding your options With cataract surgery numbers growing, it is important for patients suffering from cloudy or hazy vision to understand all of their surgical options, including advanced intraocular lenses using ReLACSTM. That is why Eye Care & Surgical Center of Laurel works so closely with Optometrists throughout the region. If you or someone you know has cloudy or hazy vision, or glare, call or visit Eye Care and Surgical Center of Laurel, or contact your local eye care provider.